Decorate Your Garage Door For Halloween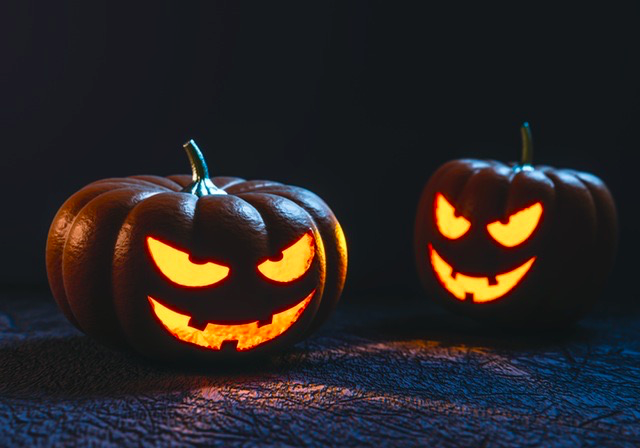 As we are approaching the end of October it's the perfect time to decorate your garage door for halloween! In order to help you out, we thought we would put together a list of some ideas we have found to make your home a little more festive. If you want more ideas, you can get some good ones by simply putting "garage door halloween" and looking at the images.
Garage Door Cover (3D)
One of the easiest options to make your garage door halloween friendly is to buy a cover for it. There are of course different covers that can make your garage look super spooky or just festive. For example, there are covers that make it look like there's a ghost in your garage. There also covers that make it look like there's a giant smiling pumpkin in your garage! Whichever your style is, halloween covers for your garage door are an easy way to make your home stand out.
Make a Scene
Using cutouts, you can make a halloween scene on your door. This is for people who are a little more partial to doing arts and crafts kind of activity. If you are artsy, then you'll love this! We have seen people make fences with scarecrows and bats. Some make a spider web that goes all the way across the garage with a big spider crawling on it. The only thing we recommend watching out for is what you use to put the cutouts on your garage. Don't use tape that is too strong like duct tape to hang up your cutouts. Usually scotch tape or sticky tack will work just fine.
Use Famous Characters
Using famous characters is one of the easiest ways to attract more traffic to your home and make it standout. One of the most popular and simple options is to use black cutouts or a banner to make a big Nightmare Before Christmas smile. Everyone knows what it is, and people will think it's awesome. Of course there are plenty of other options. You can put a big hockey mask on your door, a Freddy Krueger silhouette, or have a couple of witches doing toil toil and trouble! Whatever you choose, characters can be a great way to deck out your garage door for halloween.
Scary Mouth
This one is pretty straightforward, and it's sure to get attention depending on how big you go here. You can use cutouts to make it seem like the teeth and tongue are actually coming out of your garage door mouth. You can also use a cover banner and simply paint a big scary mouth on it. We have even seen some people make scary eyes to go above the door to make the house look like a monster!
Wish Everyone A Happy Holiday
The classic way to decorate your garage door is to simply put the words "Happy Halloween" on the door. There are other things you can do to make it look really good. Some people put a bunch of small cutout bats on them. Some make a scene around the words Happy Halloween. Either way, this is a fairly simple and nice way to say Happy Halloween to the whole neighborhood!
Remember, if anything goes wrong in your decorating and you need a garage door repair, feel free to vist Grapevine Garage Door Repair or give us a call at (817) 398-0022 anytime!